This Week in FRAX - March 11th -17th, 2023 - EP #5
Tumultuous doesn't even begin to describe last week. Depegs, Repegs, sfrxETH, and more...
Thanks for reading Flywheel DeFi! Subscribe for free to receive new posts and support our work to document Frax and DeFi.
No Peg Jokes This Week, Please :(
It's fitting that we let the people speak for us.
We agree. This last week was the biggest test to Frax since launch. For the first time ever, $FRAX deviated significantly off of its $1 peg. In all of the scenarios that we had spoken about internally, USDC custody risk was not among them. The team had so much faith in the USDC peg holding that they even hardcoded the USDC price at $1.
So when the news came out that Circle was holding $3.3bn USD at Silicon Valley Bank, both Frax and USDC fell together. In the chart below, FRAX actually did a fabulous job of tracking USDC. It never went off peg by more than 1%.
Unfortunately, this meant that FRAX traded down to $.88 cents alongside USDC during the panic. The decline really started to kick in on Friday night after Coinbase and Circle announced pausing withdrawals over the weekend.
It was a harrowing time, as during the crash, the protocol had no way to effectively change collateral. If USDC had gone to 0, FRAX would have gone down with it too. But as time went on and the fog of war dissipated, clear headed analysts figured out the hole in USDC's balance sheet was not that bad. After 24 hours, Circle finally made an announcement that they had placed a wire request to SVB on Thursday before the crash and they believed it would be honored. Thankfully we never had to find out, as over the weekend, the US Government announced in tandem with the FDIC that SVB would be bailed out and all depositors would have access to their money on Monday.
In the wake of the crash, the Frax community seems firm in its resolve to keep USDC as its primary collateral backing. While there might be other stablecoins, they either do not have the same level of transparency or they don't have enough liquidity to ensure functioning without high slippage and extra tail risks. USDC depeged only because it was highly transparent and its balance sheet was well known. If the same questions had been raised about USDT, the fallout might have been less as no one really knows where they keep their money and what the exact reserve amounts are.
Policy questions are going to be at the forefront of Frax's growth from now on, as the protocol is firm in its quest to attain a Master Account at the Federal Reserve. Sam K has repeatedly said that this is the only way that would lead to long term growth and safety. Custody risk must be mitigated at all costs, especially as the supply of FRAX increases.
It wasn't all bad
In what can only be described as "stunning," frxETH earned more than 80 ETH from MEV and tips in one day during the panic. It's the highest amount of rewards ever earned by the protocol.
One good side effect of FRAX dropping below the peg is that Fraxlend debt became 10% cheaper. One person who scooped up a lot of FRAX to pay back their debts was Michael from Curve, used his CRV in Aave to buy up USDC/FRAX to pay back his loans.
It's all about the STABLE Act
We agree with Circle's CEO Jeremy Allaire. We need to pass the STABLE Act. Stablecoins should be bank money, not stuck in limbo dependent on third party custody.
We're having a Llama party today!
Come listen to the whole team on CurveCap's Llama Party!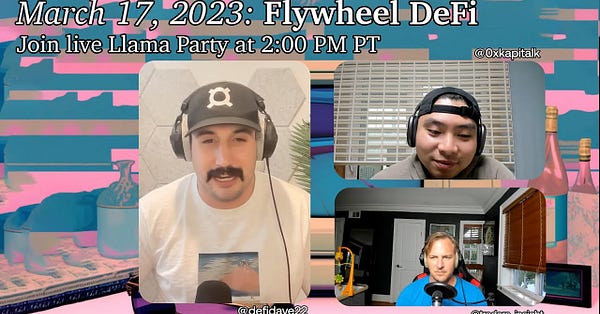 youtube.com
March 17, 2023: Llama Party feat. @FlywheelDeFi 🦙🥳
crv.mktcap.eth (https://curve.substack.com/) recaps trends in DeFi with a focus on Curve (https://curve.fi/)Channel is a Curve fanzine, official Curve channe...
Two New Sam Interviews This Week!
Metronome launches its msETH/frxETH product!
Metronome also is proposing CVX bribes for the pairs as well.
Best of Telegram
Youtube
Twitter